Pipeline West/Clipper Project
The 100% owned Pipeline West/Clipper Project is located in Lander County (Cortez Mining District), approximately 80 km southwest of Elko.
Nearby deposits include Barrick's 'Cortez Complex' (operated under the Nevada Gold Mines JV) :
Pipeline
Gold Acres,
Cortez, Cortez Hills,
Goldrush
Four Mile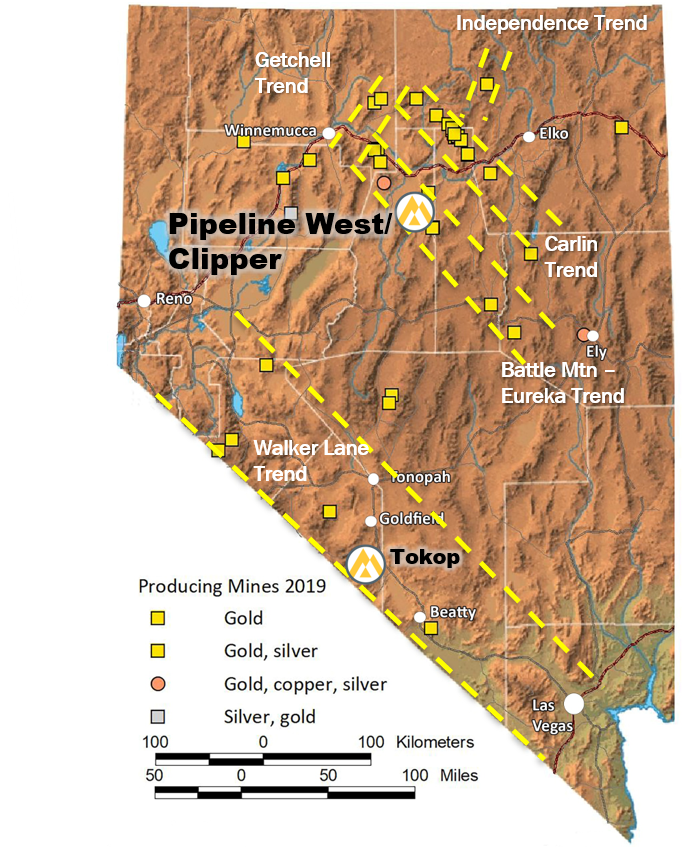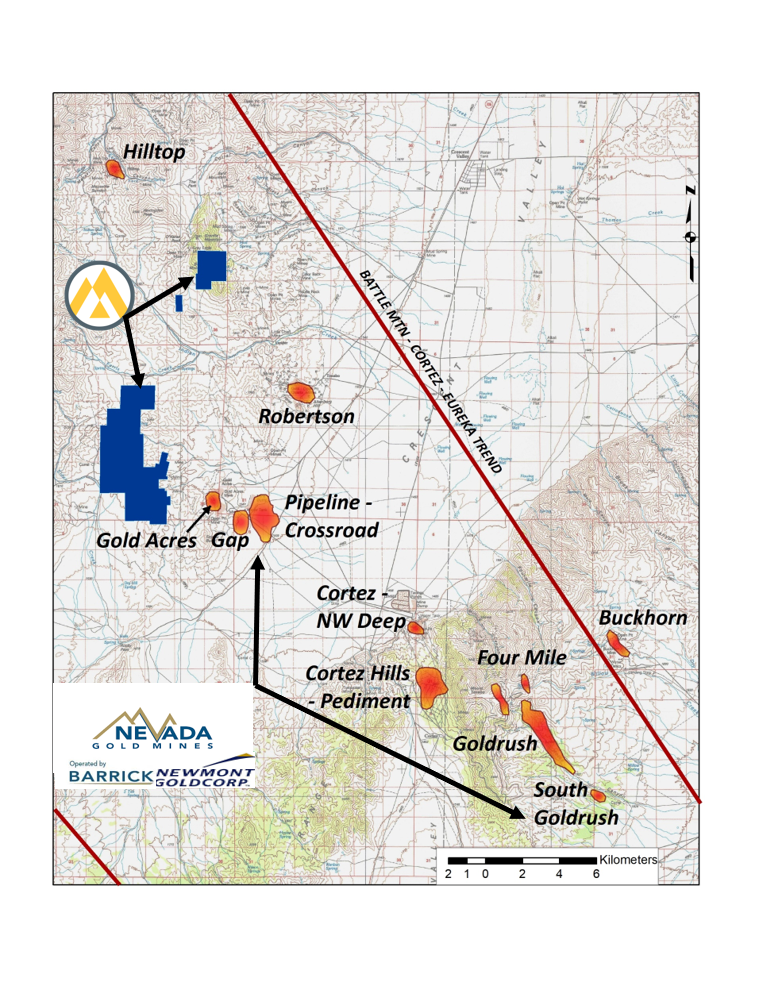 Battle Mountain - Eureka Trend
On strike with Nevada Gold JV (Barrick) Cortez Complex with a gold endowment of more than 40 million ounces (past production + current reserves & resources).
Total gold reserves plus resources include:
YE 2019 Reserves:
Proven + Probable ≈ 10.7 Million oz.
YE 2019 Resources: M + I Resources ≈ 12.5 Million oz.
These figures do not include the Hilltop Indicated Resource of 700,000 ounces or Robertson Inferred Resources of 2,741,673 ounces gold.
The Pipeline West/Clipper Project property lies just 5 km west of Pipeline Mine and only 3 km west of the Gold Acres window into carbonates of the lower plate of the Roberts Mountains Thrust.
Exploration at the Project will target lower plate carbonates.
No drilling deeper than 250 meters has ever been conducted within most of the Pipeline West/Clipper property.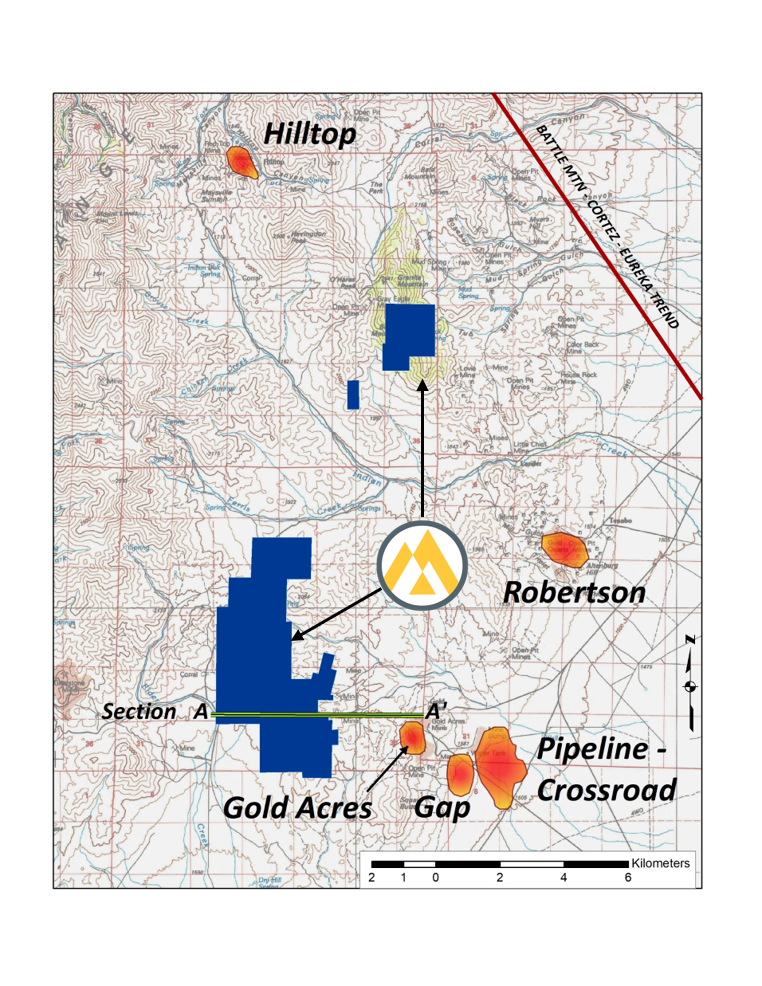 The proposed targets for high grade, Carlin-type gold mineralization are carbonate rocks of the Lower Plate of the Roberts Mountains Thrust.   These units are well known host rocks elsewhere in Nevada.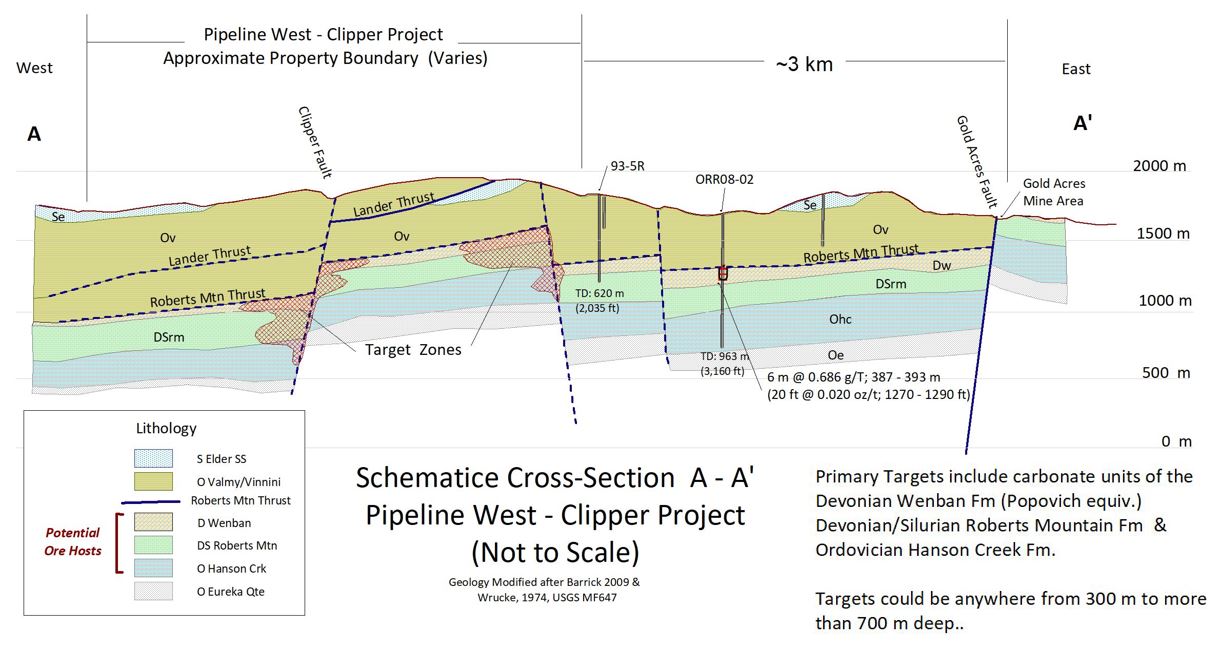 Drilling 300 – 700 meters deep will target large, high grade Carlin-Type orebodies at Pipeline West/Clipper Project.